Pineapple is tropical delicious fruit that balances the tastes of sweet and tart. Pineapple is rich in several beneficial vitamins and minerals, including vitamin C, beta carotene, copper, zinc, and folate. And there are 4 delicious pineapple recipes to use this tropical fruit. Try and enjoy!
1. PINEAPPLE CREAM WITH COCONUT MILK
Pineapple cream with coconut milk (Source: Internet)
Ingredients
+ Frozen pineapple chunks
+ Canned full fat coconut milk
How to make
+ Add chunks of frozen pineapple to a food processor.
+ Pulse a few times until they are broken into smaller chunks.
+ Add the coconut milk.
+ Pulse for 4-5 seconds until you get a smooth texture.
+ Keep this ice cream with  pineapple coconut frozen  and covered for up to 2 weeks.
2. PINEAPPLE JUICE
Pineapple juice (Source: Internet)
Ingredients
+ 1 medium fresh pineapple (about 4 cups )
+ ½ cup water
+ 2 tablespoons sugar or more
+ Lemon juice
+ Ice cubes
How to make
+ Chop pineapple into chunks.
+ Add pineapple chunks, water and sugar in a food processor or  in a blender.
+ Blend until smooth puree and there are no chunks of fruit in the mix.
+ Strain the juice using a  fine sieve or cheesecloth. Be
+ Serve immediately with ice cubes, garnish with pineapple, lemon or mint.
3. PINEAPPLE COCKTAIL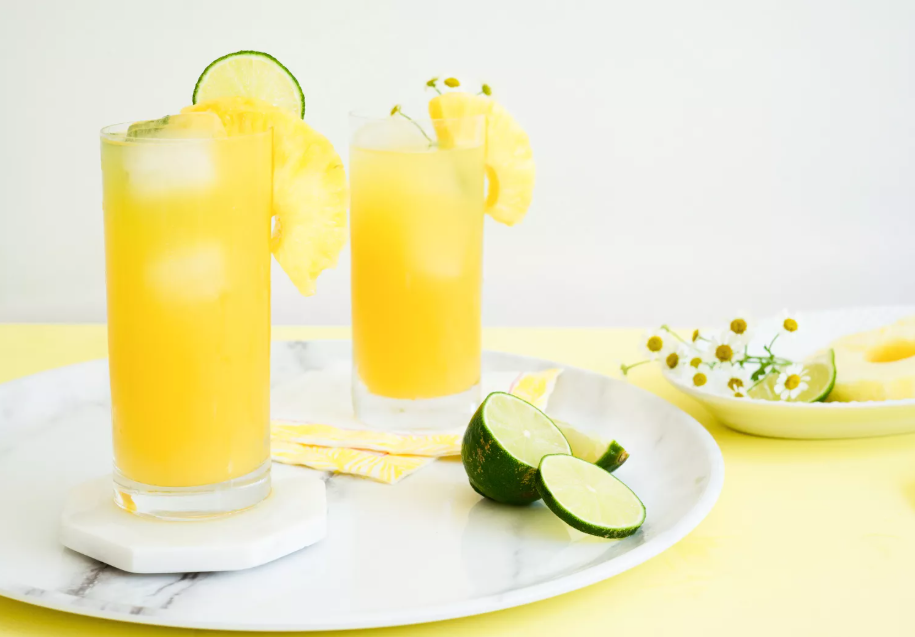 Pineapple Cocktail (Source: Internet)
Ingredients
+ 1 ounce tequila
+ 1/4 ounce orange liqueur
+ 4 ounces pineapple juice
+ 1 lime wedge
How to make
+ Gather the ingredients.
+ Pour the liquors over ice in a highball or old-fashioned glass.
+ Fill with pineapple juice.
+ Finish with a squeeze of a lime wedge.
+ Serve and enjoy!
4. PIAN COLADA DIP
Pian Colada Dip (Source: www.tasteofhome.com)
Ingredients
+ 1-1/4 cups cold 2% milk
+ 3/4 cup pineapple yogurt
+ 1 package (3.4 ounces) instant coconut cream pudding mix
+ 1 carton (8 ounces) frozen whipped topping, thawed
+ Optional: Toasted unsweetened coconut flakes and maraschino cherries
+ Fresh pineapple wedges
+ Vanilla wafers
How to make
+ In a large bowl, whisk milk, yogurt and pudding mix 2 minutes (mixture will be thick). Fold in whipped topping.
+ Refrigerate, covered, at least 2 hours.
+ If desired, top with coconut and cherries before serving. Serve with pineapple and wafers.
Are 4 pineapple recipes easy for you? Try and Enjoy with your family and friends.
Warmly welcome to read more information here