Vietnamese Lunar New Year (Tet Holiday) is the most important festival of the year for all the local people. All the best things are well prepared during this holiday. Because anyone wants to ensure that they will have a new year full of happiness, success, and prosperity.
The red in watermelon will  bring happiness, success (Source: Dưa Hấu Tết)
Celerating for Tet Holiday, Vietnamese people will prepare some speciality of traditional food. They are Banh Chung, Banh Tet, Gio Cha, Mut, Mam Ngu Qua, Dua Hau, etc. And Dua Hau – watermelon – is chosen to decorate on Tet Holiday because of its lucky red color. They believe that the red in watermelon will bring well-being throughout the year.
Legend Of Watermelon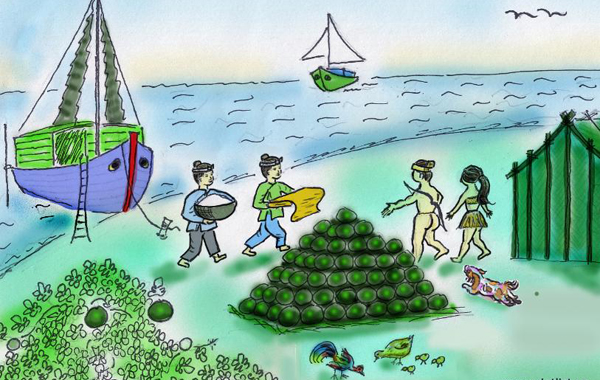 The legend of water melon (Source: Internet)
Mai An Tiem is an an adopted son of one of the Hùng Kings. Because of his outright speaking, his family was exiled to a deserted island. They lived there in difficult conditions. One day, wild birds dropped black seeds from the sky. Mai An Tiem planted them, and watermelon plants grew. Later, fishing boats came to barter rice and other products for the fruit. The lives of An Tiêm and his family improved; when the news reached the King, he took pity on the exiles and brought them back to court.
Ways To Enjoy Watermelon
A watermelon is more than 91% water (Source: Internet)
Watermelon is healthy and delicious. Full of vitamins A and C, lycopene, potassium, and amino acids you can enjoy this tropical fruit daily in several ways.
1. Juice it! At 92% water, watermelon juice is a perfect way to hydrate this summer!
2. Smoothie it! Just add watermelon cubes, greek yogurt, strawberries, a banana and voila!
3. Chunk it! At only 40 calories a cup, cut a watermelon into cubes and eat it on the go!
Tip: You can try adding a small sprinkling of salt to watermelon. The thought is, the salt creates a sweet-salty contrast that makes the melon actually taste a little sweeter.
Health Benefits
Watermelon juice is not only delicious but also healthy (Source: Internet)
1. Keeps The Heart Healthy
Watermelon is very rich source of lycopene which is an antioxidant that helps to defuse 'free radicals' that could potentially damage tissues and organs of the body.
2. Prevents Cancer
Watermelon juice is an excellent source of beta-carotene, vitamin A, vitamin C, and other essential nutrients that can keep our eyes healthy.
3. Helps Lose Weight
Watermelon is rich in water, minerals and negligible amount of fats. That is the reason why watermelon juice is good for people who want to lose weight.
4. Prevents Aging Signs
One of the best benefits of watermelon juice is preventing the signs of aging. Watermelon juice contains lycopene, which especially powerful antioxidant that can help to protect the skin from UV damage. UV damage can make you look prematurely old and can lead to skin cancer.
5. Controls Blood Pressure
Watermelon contains potassium and magnesium that help keep blood vessels healthy and maintain smooth blood flow. The watermelon can also help maintain proper electrolyte and acid balance, which are all-important for a stable blood pressure level.
6. Boosts Stronger Muscles
Watermelon juice contains high levels of potassium that are important for the smooth functioning of the muscles. Potassium is also a natural electrolyte that is required by our bodies after a workout. Drinking watermelon juice is highly recommended to help alleviate the aches and pains that follow a workout.
Warmly welcome to read more information here