Vietnam is a beautiful country for people who want to engage in meaningful experiences.  Amazing country offers countless exotic destinations, from natural landscape  to delicious traditional food and  the lifestyle of indigenous people.
Here are 8 amazing places in Vietnam that will surely provide lasting memories:
1. SAPA
Sapa has four different seasons in the year (Source: Internet)
Sapa welcomes a diverse range of visitors, attracted by the highland tribes, iconic rice paddies and forest treks. The whole area is blessed with awe-inspiring natural beauty. It's a great area for an authentic rural experience, observing how ethnic minorities here live and visiting local markets.
Read more about Sapa here
2. HA LONG BAY
Ha long Bay is UNESCO World Heritage Site (Source: Luciano Mortula – LGM  Shutterstock)
Ha long Bay is located in the northern path of Vietnam east of Hanoi, and is well known for thousands of towering limestone of unique shapes, height and exotic beaches. There are many things to do here, from scuba diving, rock climbing and hiking, etc.
 3. HA NOI
Hoan Kiem Lake is a symbol of peace and virtue of Vietnamese people (Source: Pixabay)
Ha Noi, the capital of Vietnam, is actually over 1000 years old so the wealth of history. Here is mind boggling: temples, ancient citadels, unique theatre and stunning wilderness just outside the city all offer fun-filled days. With green parks, lots of lakes, and the large Red River cutting through the city, there's also plenty of nature to give this chaotic Vietnamese city a calmer atmosphere than you might expect!
4. DA NANG
Dragon Bridge is the special one that make many tourists curious  (Source: Internet)
Da Nang is a modern port city in central Vietnam with many bars, restaurants, and hotels, as well as a lovely beach. If you're looking to get off the tourist trail and observe ordinary Vietnamese life, this is where to come. This city also makes a good base for day trips to the ruins at My Son and the cities of Hue and Hoi An.
5. HOI AN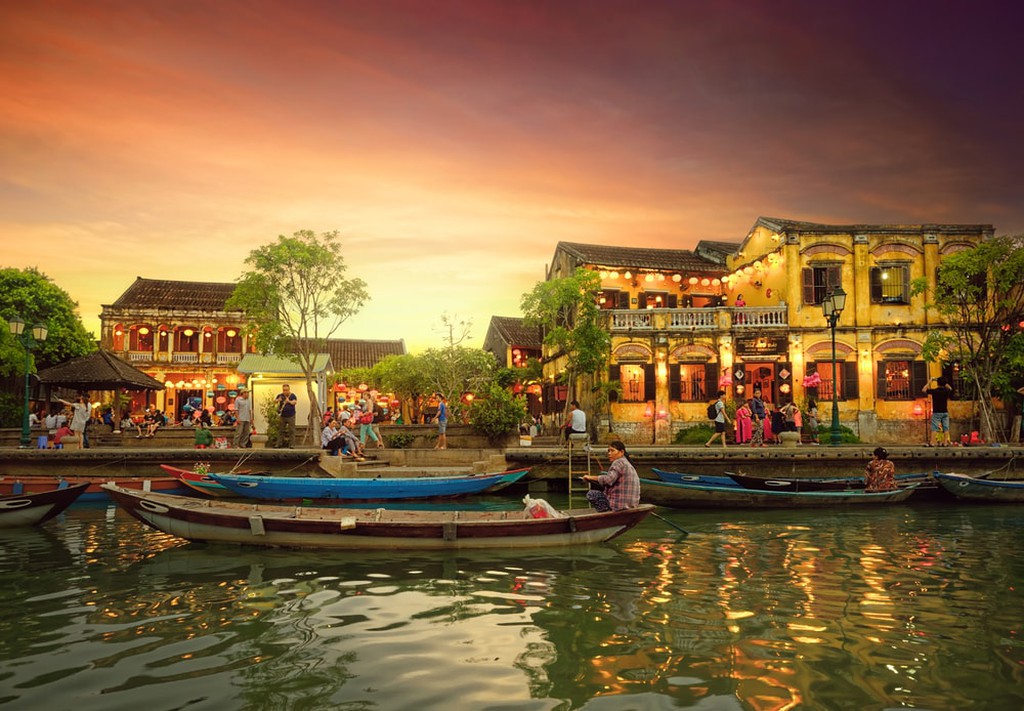 Graceful, historic Hoi An is Vietnam's most atmospheric and delightful town  (Source: Internet)
Charming Hoi An is a lovely place to take in an early morning or late afternoon stroll, when the sun is no longer at its blistering peak. Lush gardens, illuminated lanterns glowing after dark, good food and gorgeous beaches await at this dreamy, ancient spot in central Vietnam.
6. HO CHI MINH CITY
Ho Chi Minh City is one of amazing places in Vietnam (Source: Internet)
Vietnam's largest city is a lively, sometimes chaotic metropolis. Full of street markets, cafes, bars and buzzing with motorbikes, this is Vietnam at its most authentic. Spend any length of time in Ho Chi Minh City and you'll also discover a city teeming with culinary delights.
7. MEKONG DELTA
Mekong Delta is known for its floating markets, rice terraces and lifestyle (Source: Internet)
The Mekong Delta is located in the south of Vietnam and is a warren of rivers, rice fields, and floating markets. One of the most beautiful parts of Vietnam, Mekong Delta is a perfect spot to take in the view and observe Vietnam's peaceful rural way of life.
8. PHU QUOC
Phu Quoc is famous for beautiful beach, seafood and fish sauce (Source: Internet)
Famous for its white-sand beaches and resorts, Phu Quoc is a great vacation place to relax and chill. Along with relaxing on the beach every day, visitors can explore mountains, dense tropical jungle, wildlife, and hiking trails in Phú Quốc National Park.
Warmly welcome to read more information here