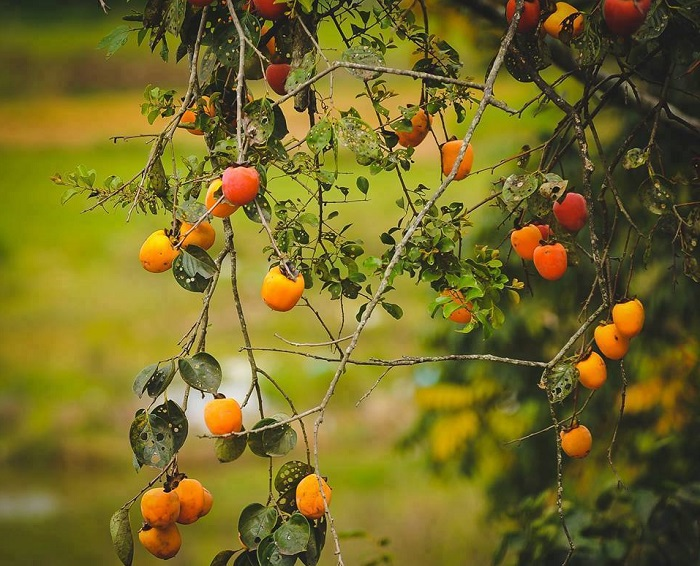 Persimmon season in Da Lat will surely provide lasting memories (Photo: Dac San Da Lat)
From September to November, you can enjoy a beautiful time for ripe persimmon season in Da Lat City. Travelling Da Lat in the persimmon season, the cold wind will hover on your shoulders and the orange red ripe persimmon will warm up your soul with the sweetness taste.
Persimmon – a special gift that the God creates for Da Lat
Persimmons are sweet, delicious flesh, and healthy (Photo: Tir.minl)
The tree plants here in the early years of the 20th century. You can see the persimmon trees everywhere on the local people's gardens, the pavements or the hills. When the autumn comes, the fresh green of leaves combine with yellow, it really makes the persimmon tree more attractively and beautifully. In the harvest season, you can catch sight of the brilliantly yellow-orange color of this fruit everywhere. And feel the smell in the air.
In the past, people mainly harvested ripe persimmons for sale, jam or drying. Nowadays, people often harvest persimmon when the old fruit is gradually turning to pale yellow for making brittle persimmon.
Persimmon garden – charming place for visitors
Visitors come to the garden of persimmon can visit, take photos and buy gifts for souvenir 
(Photo: Internet)
Thanks to its beautiful place, persimmon garden is a great choice for visitors, especially young people. Visitors may come to the garden of persimmon for visiting, taking photos and buying ripe fruits. The persimmon garden is far from the city center. And the most popular destinations are on the way to Cau Dat tea hill, the area near Bao Dai Palace 3 and Mimosa Pass.
Walking around the garden in the midst of the cool, watching the ripe persimmon fruits on the tree, you will feel like you are lost in the fairy land. Not only take photos, live virtual, admire the beautiful scenery, visitors to the rose garden can also pick ripe fruits to enjoy.  Remembers to contact with the owner of the hospitable garden, they will tell you lots of interesting stories about this beautiful land.
Photo: Internet
Photo: Internet
Warmly welcome to read more information here