Orange Juice Drink 330ml Can
NPV orange juice is made from best flavor and nutritional citrus fruits. Drinking orange juice daily and your body will thank you for all health benefits.
 FOB Reference Price: Get Latest Price
Product information

Nutritional values

Features

Health benefits
Product information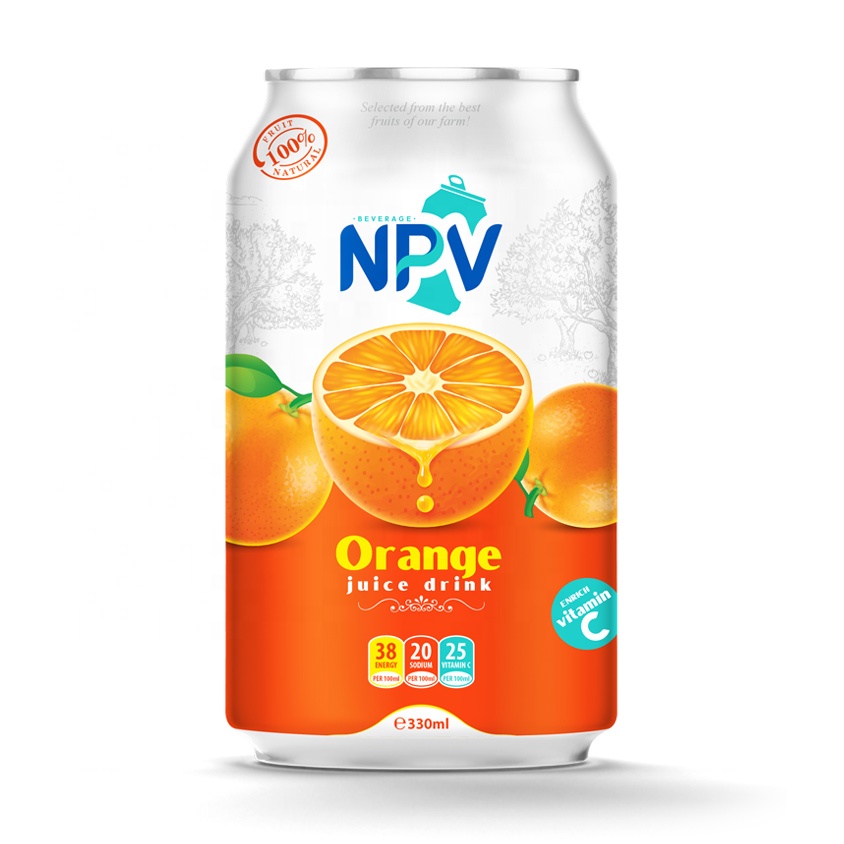 | | |
| --- | --- |
| Volume | 330ml |
| Packaging | Aluminum Can |
| Ingredients | Water, Orange Juice, Sugar, Orange Flavor, etc. |
| Storage conditions | Store in dry and cool place |
| Shelf life | 24 months |
| Sample | Free |
| | |
| --- | --- |
| Payment term | L/C, T/T |
| Port | Ho Chi Minh Port, Viet Nam |
| Delivery time | 20 – 25 days after confirm order |
| Certification | ISO, HACCP, FDA, HALAL |
| Minimum order quantity | 200 cartons/order |
| | |
Nutritional values
| | |
| --- | --- |
| Nutritional Values | Per 100 ml |
| Energy (kcal) | 38 kcal |
| Total Carbonhydrate (gram) | 9.5 g |
| Sugar (gram) | 9 g |
| Vitamin C (mg) | 25 mg |
| Sodium (mg) | 20 mg |
| Protein (gram) | 0 |
| Total Fat (gram) | 0 |
Features
One of the most popular and famous citrus fruit is orange which is called "The God's Gift" in some regions of world.
Orange is naturally high in vital nutrients, such as vitamin C, potassium, calcium and vitamin D.
NPV Orange Juice is a convenient delicious way to obtain the benefits of orange.
+ Best flavor
+ Enrich vitamins
+ High antioxidant
+ Good for health
+ No harmful chemicals
+ Convenient to carry
Health benefits
Orange Juice Drink has many benefits for your health
1. Boosts immune function
Vitamin C has a powerful effect on the immune system. Drinking orange juice, which is full of vitamin C, can help you fight off sickness, viruses, and even the flu.
2. Helps prevent cancer
Antioxidants help stop the formation of cancerous cells; some specific antioxidants have been linked to slowing tumor growth. This means that a cup of orange juice per day could be a good choice if you're at risk for cancer.
3. Improves digestion
Drinking orange juice can help improve the function of your intestines cure stomach ulcers, and prevent bloating, plus it can also help with diarrhea, constipation.
4. Reduces inflammation
Orange juice also has anti-inflammatory properties, and research has found that these properties can help improve insulin resistance, promote cardiovascular health, and reduce the risk of developing diabetes or heart disease. For people with inflammatory diseases, orange juice can be part of a healthy diet to avoid aggravating the symptoms.
5. Improves circulation
Folate, or vitamin B9 can help build red blood cells, which improve the flow of blood and keep the organs oxygenated. Orange juice is a rich source of folate. Drinking orange juice every day, you can improve your blood circulation as well as the health and functioning of many of the body's organs.
6. Maintains blood pressure
Orange juice contains magnesium, which has been found to lower blood pressure. Orange juice contains specific antioxidants that can improve the functioning of blood vessels and have been linked to further reductions in blood pressure.
7. Helps with weight loss
Orange juice is incredibly low in calories and has zero fat, which makes it an excellent option if you are looking towards shedding that extra kilo or two.
8. Improves skin health
The benefits of orange juice for the skin include fighting free radicals, preventing wrinkles, and helping your skin look younger.